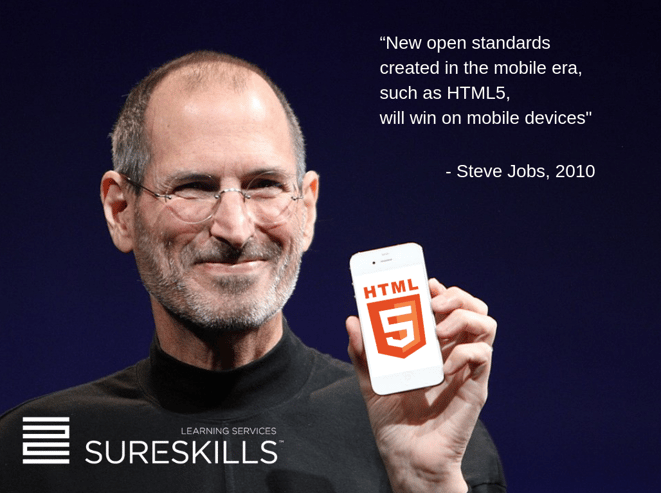 At the end of next year, Adobe Flash will be gone.
In July 2017 Adobe announced they would "stop updating and distributing the Flash player at the end of 2020 and encourage content creators to migrate any existing Flash content to new open formats."
The announcement sent shockwaves through the eLearning industry, largely because Adobe has been such a major player in eLearning in the past twenty years, during which they pioneered the development of animated and interactive content for the web.
In April 2010, more than seven years before Adobe's announcement, Steve Jobs penned (typed!) a letter titled "Thoughts on Flash," during which he outlined his problems with Adobe's product. Given what we now know, it is a remarkably prescient musing on industry standards.
Here are some of the key problems Steve Jobs saw coming with Adobe Flash:
Open vs. Proprietary
Jobs outlined that Apple favoured open standards such as HTML5, CSS, and Javascript as opposed to Adobe's proprietary Flash. He felt uncomfortable with Adobe's sole right to updates and pricing of their own product. Jobs emphasized "HTML5, the new web standard that has been adopted by Apple, Google and many others, lets web developers create advanced graphics, typography, animations and transitions without relying on third party browser plug-ins (like Flash). HTML5 is completely open and controlled by a standards committee, of which Apple is a member."
Reliability, Security, and Performance
Jobs cited Flash's poor security record and emphasized poor performance on mobile devices. This appears to have been a thorn in Adobe's side – they were never quite able to demonstrate quality performance at a time when smartphone usage and adoption continued to soar.
Battery life
Adobe used an older generation video decoder that could only be run in software (as opposed to hardware), which used too much power and drained the battery of mobile devices.
Touch
Flash was created for PCs and mice, not for touchscreens and fingers. This meant that features like "rollovers" only worked on PCs because it required that the mouse hover in a certain spot for features to be activated. This simply didn't translate to touch-based devices.
Conclusion
Steve Jobs had a gift for recognizing trends in technology. At the end of his letter, he anointed the successor to FlashAdobe (and PCs too). Perhaps Adobe should focus more on creating great HTML5 tools for the future, and less on criticizing Apple for leaving the past behind."
Flash is dead (or dying).
HTML5 is poised to take over.
If you'd like to learn more about how to prepare for converting your Adobe Flash content to HTML5, click below for a free consultation with a member of the SureSkills digital learning team.