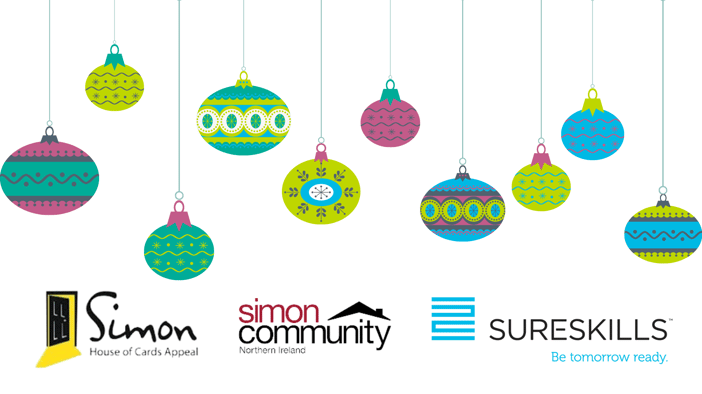 SureSkills, with your continued support, have been able to donate to Simon Community House of Card Appeal and Simon Community Northern Ireland this Christmas. It is our second year helping the Simon Community address homelessness across the island of Ireland at Christmas.
Our donation has been invested into learning and development of those who need Simon's services. This will allow many of those who have been sleeping rough to work on their well-being, creativity and employability. By empowering people through these services they are aided in their journey away from emergency temporary accommodation to a more secure environment in permanent support housing, giving them a safe place to call home.
Funding charities like Simon is important all year round, but especially at Christmas. Donations can provide those who are experiencing or at risk of homelessness with support, hot dinners, and hampers and well-being boxes.
This Christmas we encourage you to donate to the Simon Community, or a charity of your choice, if you can.
Please find links below to donate to the Simon Community:
Donate to the Dublin Simon Community
Donate to the Simon Community Northern Ireland
Wishing you a safe and merry Christmas, from all the team at SureSkills.