SureSkills Ad Copy and Article as featured in the March 2021 version of the Law Gazette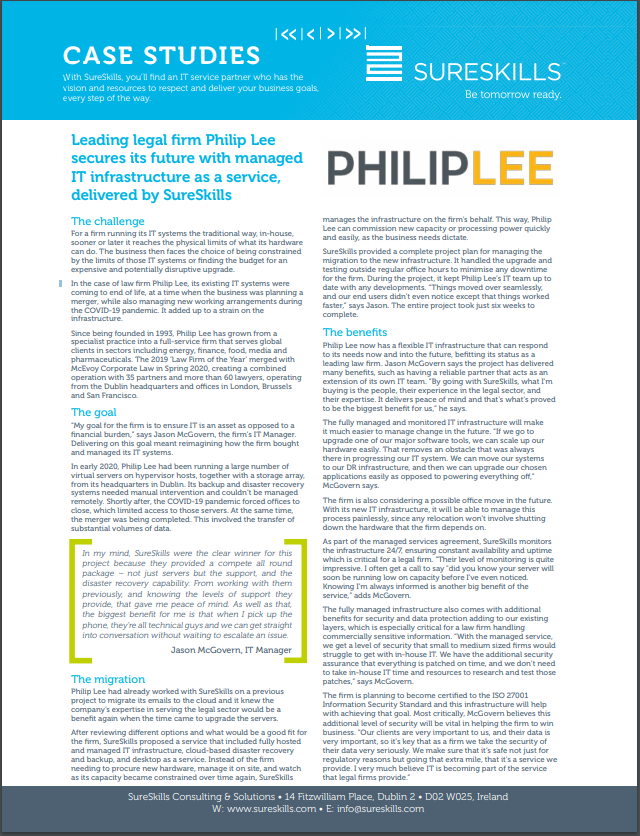 The Challenge
For a firm running its IT systems the traditional way, in-house, sooner or later it reaches the physical limits of what its hardware can do. The business then faces the choice of being constrained by the limits of those IT systems or finding the budget for an expensive and potentially disruptive upgrade.
In the case of law firm Philip Lee, its existing IT systems were coming to end of life, at a time when the business was planning a merger, while also managing new working arrangements during the COVID-19 pandemic. It added up to a strain on the infrastructure.
Since being founded in 1993, Philip Lee has grown from a specialist practice into a full-service firm that serves global clients in sectors including energy, finance, food, media and pharmaceuticals. The 2019 'Law Firm of the Year' merged with McEvoy Corporate Law in Spring 2020, creating a combined operation with 35 partners and more than 60 lawyers, operating from the Dublin headquarters and offices in London, Brussels and San Francisco.
The Goal
"My goal for the firm is to ensure IT is an asset as opposed to a financial burden," says Jason McGovern, the firm's IT Manager. Delivering on this goal meant reimagining how the firm bought and managed its IT systems.
In early 2020, Philip Lee had been running a large number of virtual servers on hypervisor hosts, together with a storage array, from its headquarters in Dublin. Its backup and disaster recovery systems needed manual intervention and couldn't be managed remotely. Shortly after, the COVID-19 pandemic forced offices to close, which limited access to those servers. At the same time, the merger was being completed. This involved the transfer of substantial volumes of data.
The Migration
Philip Lee had already worked with SureSkills on a previous project to migrate its emails to the cloud and it knew the company's expertise in serving the legal sector would be a benefit again when the time came to upgrade the servers.
After reviewing different options and what would be a good fit for the firm, SureSkills proposed a service that included fully hosted and managed IT infrastructure, cloud-based disaster recovery and backup, and desktop as a service. Instead of the firm needing to procure new hardware, manage it on site, and watch as its capacity became constrained over time again, SureSkills manages the infrastructure on the firm's behalf. This way, Philip Lee can commission new capacity or processing power quickly and easily, as the business needs dictate.
SureSkills provided a complete project plan for managing the migration to the new infrastructure. It handled the upgrade and testing outside regular office hours to minimise any downtime for the firm. During the project, it kept Philip Lee's IT team up to date with any developments. "Things moved over seamlessly, and our end users didn't even notice except that things worked faster," says Jason. The entire project took just six weeks to complete.
The Benefits
Philip Lee now has a flexible IT infrastructure that can respond to its needs now and into the future, befitting its status as a leading law firm. Jason McGovern says the project has delivered many benefits, such as having a reliable partner that acts as an extension of its own IT team. "By going with SureSkills, what I'm buying is the people, their experience in the legal sector, and their expertise. It delivers peace of mind and that's what's proved to be the biggest benefit for us," he says.
The fully managed and monitored IT infrastructure will make it much easier to manage change in the future. "If we go to upgrade one of our major software tools, we can scale up our hardware easily. That removes an obstacle that was always there in progressing our IT system. We can move our systems to our DR infrastructure, and then we can upgrade our chosen applications easily as opposed to powering everything off," McGovern says.
The firm is also considering a possible office move in the future. With its new IT infrastructure, it will be able to manage this process painlessly, since any relocation won't involve shutting down the hardware that the firm depends on.
As part of the managed services agreement, SureSkills monitors the infrastructure 24/7, ensuring constant availability and uptime which is critical for a legal firm. "Their level of monitoring is quite impressive. I often get a call to say "did you know your server will soon be running low on capacity before I've even noticed. Knowing I'm always informed is another big benefit of the service," adds McGovern.
The fully managed infrastructure also comes with additional benefits for security and data protection adding to our existing layers, which is especially critical for a law firm handling commercially sensitive information. "With the managed service, we get a level of security that small to medium sized firms would struggle to get with in-house IT. We have the additional security assurance that everything is patched on time, and we don't need to take in-house IT time and resources to research and test those patches," says McGovern.
The firm is planning to become certified to the ISO 27001 Information Security Standard and this infrastructure will help with achieving that goal. Most critically, McGovern believes this additional level of security will be vital in helping the firm to win business. "Our clients are very important to us, and their data is very important, so it's key that as a firm we take the security of their data very seriously. We make sure that it's safe not just for regulatory reasons but going that extra mile, that it's a service we provide. I very much believe IT is becoming part of the service that legal firms provide."
"In my mind, SureSkills were the clear winner for this project because they provided a compete all round package – not just servers but the support, and the disaster recovery capability. From working with them previously, and knowing the levels of support they provide, that gave me peace of mind. As well as that, the biggest benefit for me is that when I pick up the phone, they're all technical guys and we can get straight into conversation without waiting to escalate an issue."
Jason McGovern, IT manager, Philip Lee