SureSkills Ad Copy and Article as featured in the June 2021 version of the Law Gazette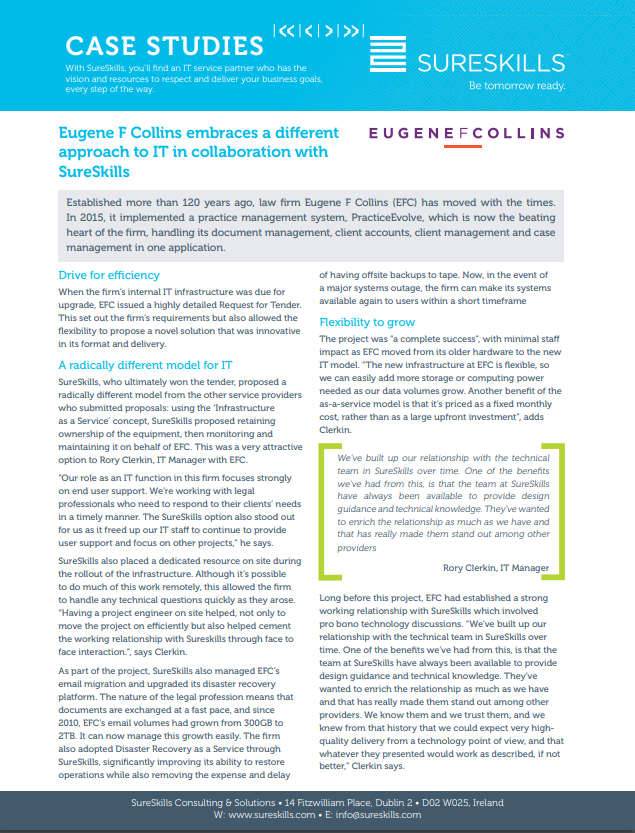 Established more than 120 years ago, law firm Eugene F Collins (EFC) has moved with the times. In 2015, it implemented a practice management system, PracticeEvolve, which is now the beating heart of the firm, handling its document management, client accounts, client management and case management in one application.
Drive for efficiency
When the firm's internal IT infrastructure was due for upgrade, EFC issued a highly detailed Request for Tender. This set out the firm's requirements but also allowed the flexibility to propose a novel solution that was innovative in its format and delivery.
A radically different model for IT
SureSkills, who ultimately won the tender, proposed a radically different model from the other service providers who submitted proposals: using the 'Infrastructure as a Service' concept, SureSkills proposed retaining ownership of the equipment, then monitoring and maintaining it on behalf of EFC. This was a very attractive option to Rory Clerkin, IT Manager with EFC.
"Our role as an IT function in this firm focuses strongly on end user support. We're working with legal professionals who need to respond to their clients' needs in a timely manner. The SureSkills option also stood out for us as it freed up our IT staff to continue to provide user support and focus on other projects," he says.
SureSkills also placed a dedicated resource on site during the rollout of the infrastructure. Although it's possible to do much of this work remotely, this allowed the firm to handle any technical questions quickly as they arose. "Having a project engineer on site helped, not only to move the project on efficiently but also helped cement the working relationship with SureSkills through face to face interaction.", says Clerkin.
As part of the project, SureSkills also managed EFC's email migration and upgraded its disaster recovery platform. The nature of the legal profession means that documents are exchanged at a fast pace, and since 2010, EFC's email volumes had grown from 300GB to 2TB. It can now manage this growth easily. The firm also adopted Disaster Recovery as a Service through SureSkills, significantly improving its ability to restore operations while also removing the expense and delay of having offsite backups to tape. Now, in the event of a major systems outage, the firm can make its systems available again to users within a short timeframe
Flexibility to grow
The project was "a complete success", with minimal staff impact as EFC moved from its older hardware to the new IT model. "The new infrastructure at EFC is flexible, so we can easily add more storage or computing power needed as our data volumes grow. Another benefit of the as-a-service model is that it's priced as a fixed monthly cost, rather than as a large upfront investment", adds Clerkin.
Long before this project, EFC had established a strong working relationship with SureSkills which involved pro bono technology discussions. "We've built up our relationship with the technical team in SureSkills over time. One of the benefits we've had from this, is that the team at SureSkills have always been available to provide design guidance and technical knowledge. They've wanted to enrich the relationship as much as we have and that has really made them stand out among other providers. We know them and we trust them, and we knew from that history that we could expect very high-quality delivery from a technology point of view, and that whatever they presented would work as described, if not better," Clerkin says.