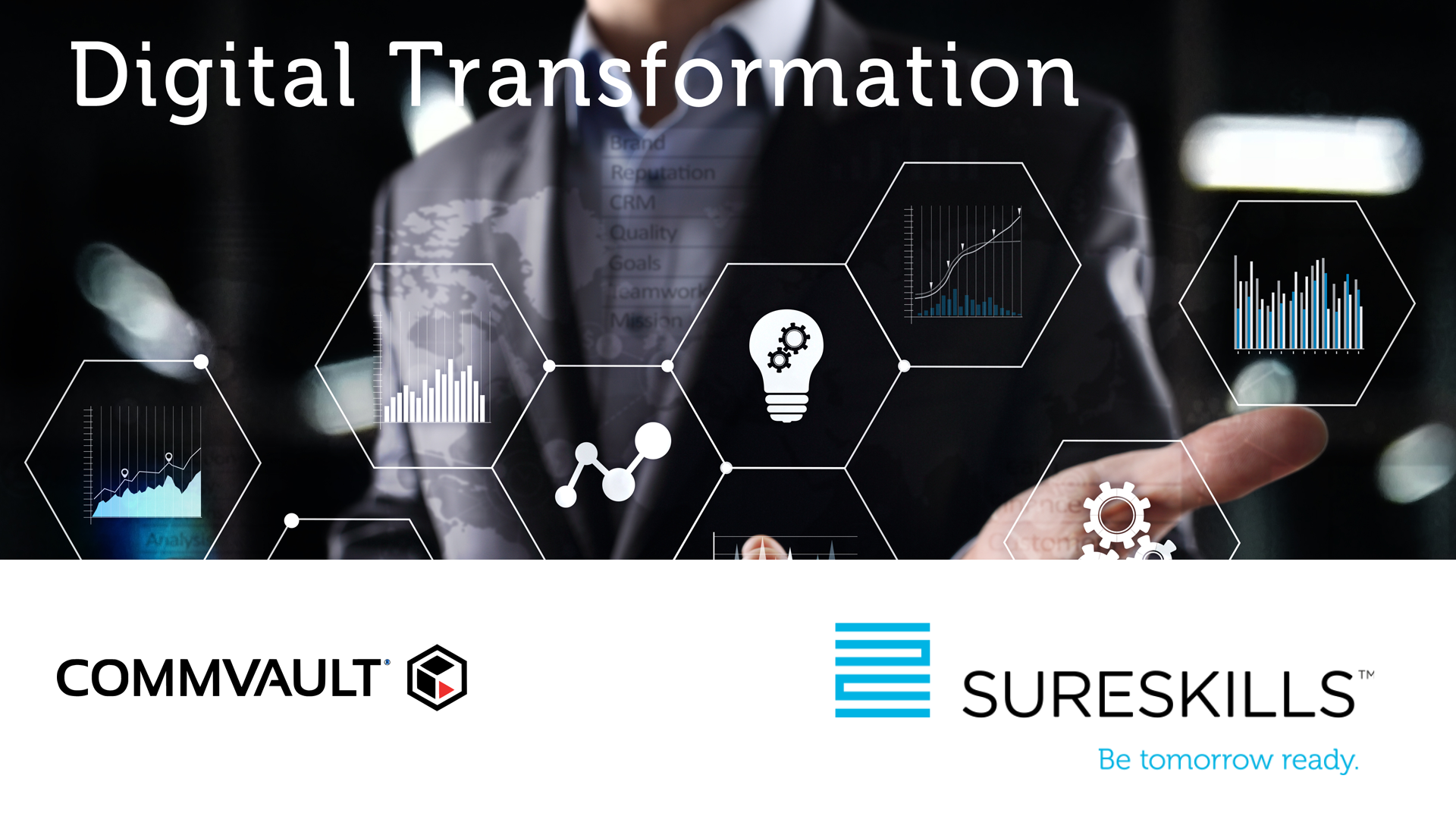 A recent report by ESG* suggested that 64% of IT professionals reported that the complexity of their organizations' IT infrastructure slowed down the IT operations and digital initiatives whereas 65% still see data silos as a problem for their organization.
Digital transformation changes everything when it comes to data. It's hard to put data to work for customers and innovation when it's scattered across silos, clouds, and on-premises storage – all managed with different backup and recovery products.
Organisations that SureSkills work with want a modern data protection strategy that drives security across their whole environment, unifying the generations of data and workloads. Having unmatched security and flexibility to seamlessly move workloads across the IT environment allows organizations to modernize, scale, and protect their data.
Business agility is critical to digital transformation, resulting in the need for the most comprehensive data protection and migration capabilities for the widest variety of workloads, whether virtual, physical, cloud or SaaS.
Leveraging our partner Commvault's platform we automate and scale data protection and workload migration within a single platform providing the flexibility to manage ongoing change. Here's how:
Business agility – Dynamic and automated power management features enable customers to scale their Commvault cloud infrastructure up and down according to demand. Reducing the need for permanent compute and storage in the cloud and driving down costs
Flexible deployment – Build and scale according to one's "best fit" requirements. Choose appliance, software, SaaS, managed services or a hybrid mix to grow and evolve the environment
Automation – Powerful workflow and orchestration engine coupled with robust APIs to drive operations, integration, and ease of use
Broadest workload coverage – With the industry's broadest support for cloud, on-prem, SaaS, virtual, physical, application, databases, DBaaS, Kubernetes, and more data sets under a single solution and common infrastructure. Quickly adopt new technologies and eliminate redundancy with Commvault
Manage change with a unified view – A singular perspective across the entire data landscape enables more effective operations and data management. No more back and forth between multiple tools! No data left behind
Intelligent storage tiering – Whether in cloud, on-prem, or across a hybrid environment, Commvault can automatically move data to the appropriate storage to optimize costs
Data mobility – With cross-cloud, cross-hypervisor, and cross-platform functionality, Commvault accelerates data migration and recovery tasks
As a long standing Commvault partner, we ensure new solutions are effectively implemented to align with our customer's digital transformation business needs and goals. To find our more click here to message us.
*Enterprise Strategy Group (ESG) part of Tech Target, Inc. Report link here.