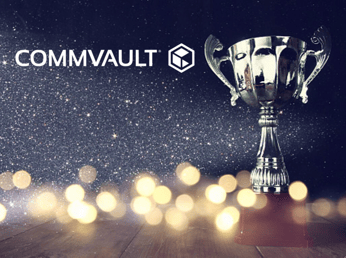 Commvault ranked a leader in The Forrester Wave™: Data Resiliency Solutions, Q3 2019
Data, your most valuable asset, is being stored in more places, used in more ways—and threatened more lethally than ever before. You just can't count on yesterday's technology to solve today's data readiness challenges. Never mind the growing challenges of tomorrow's multi-cloud world.
So when Forrester takes a fresh look at data resiliency solution vendors, it's worth paying close attention to their findings. Commvault leads with the Highest Scores in the Data Sources and Manageability, and among the highest scores in the Backup Optimization criterion in The Forrester Wave™: Data Resiliency Solutions, Q3 2019. This is a validation of strong feedback from SureSkills and Commvault customers—but the report goes far beyond the scorecard itself. With the digital world moving so fast—new opportunities, new challenges, new threats every day—this report makes compelling reading for every business leader and CIO.
One extract is noted below.
Commvault suits companies that plan to consolidate their backup and recovery tools. Commvault is redesigning its solution and offerings for enterprises' data resiliency needs. It also offers its solution in a subscription model so its clients can turn to opex and gain commercial advantage. Commvault's appliance-based solution delivers on customer demand for quick time-to-market. The solution helps clients not only consume cloud services as an archive data target, but also enables them to adopt public cloud by protecting cloud-based data sources. It offers the most comprehensive support for widely deployed infrastructure platforms and applications both in the data centre and in public cloud services. Commvault has added a capability to aid ransomware detection. It enables firms to embrace the cloud and modernize data resiliency operations. Its solution offers a "recovery readiness" dashboard to help customers perform what-if simulations that help identify the virtual machines (VMs) or applications that are likely to fulfil the business's recovery expectations. Solution interfaces are split in two: The first one is the web interface that administrators use to manage the virtual infrastructure and new workloads like containers, public cloud services, and SaaS. The second is a thick Java UI, for the rest of the infrastructure and for admins to operate the workflow engine. Commvault's solution does not provide any inputs on the effectiveness or efficiency of the governing policies.
SureSkills is Ireland's leading Commvault partner – please click here for a full copy of the Forrester report.