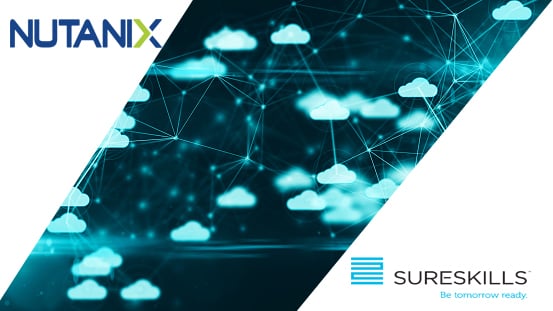 When we evaluate new technologies to introduce to our customers, we often return to this guiding principle: how will it help them to reduce complexity in their IT operations?
It's a refrain we hear time after time, and it's especially true of data centre environments. Many customers tell us they need to manage complex and resource-intensive three-tier legacy infrastructure. At the start of every investment cycle, they have to predict how much storage they will need for the next three to five years, then provision their management and people to look after that data centre.
Meeting these kinds of challenges is not easy, but when we found Nutanix and heard more about the company, we quickly realised its value proposition would resonate strongly here in Ireland.
Nutanix's vision plays particularly well in sectors that need to retain large amounts of on-premise infrastructure. This might be due to data storage and regulatory compliance requirements. Until now, they have felt hamstrung by vendor lock-in, unable to gain the benefits of cloud because of the expense or risk involved. They want the flexibility that cloud provides, for example to be able to have their DevOps teams create applications to ensure they can compete in the digital world. Or, they might just want to run their applications faster and more efficiently
Nutanix's hyper converged infrastructure delivers an Enterprise Cloud Platform that brings the simplicity and scalability of the public cloud to enterprise data centres. Nutanix built its vision on the idea of being a 'universal adapter' to the data centre. It will run on the customer's choice of hardware, whether that's Dell, IBM, Lenovo or Fujitsu, and on their preferred hypervisor.
Simply put, the platform enables IT teams to take a 'Lego brick' approach to building out their data centres. It's a data centre in a box; easy to deploy and manage, requiring far less management overhead. What's more, customers only need to pay for what they use. The benefits to IT teams are immediate and obvious:
· Reduced TCO
· Simplification of management
· Lock-in elimination
· Flexible consumption
· Application mobility
It means IT teams can reassign their team to areas of the business where they can deliver the most value. They've also appreciated how Nutanix has built upon the software that underpins its platform. The advantage of a software-defined data centre is you can manage it from anywhere, handling upgrades, overseeing patches or re-provisioning workloads. Before, this was only possible by physically being present in the data centre. Now, it's all possible through Nutanix's management portal.
In less than ten years, Nutanix has made the transition from startup to enterprise player, with revenues of almost $1 billion and a market cap of close to $10 billion. It has more than 9,000 customers worldwide and its net promoter score of 90+ is far higher than the industry average – indicating extremely high levels of satisfaction.
That's why SureSkills will be recommending Nutanix to its customer base. We think it's an exciting technology that can deliver return on investment, lower operational cost and higher levels of uptime. Talk to us today about how Nutanix can help your organisation.